Work continues in both the apiary and the workshop.
We've had no long cold spell again this winter. Maybe climate change means they are a thing of the past?
Never-the-less oxalic acid treatment had to be done, brood or no brood. Total drop varied from 570 down to 70 which I didn't think was too bad. There was still a small natural drop the following week so I've followed up with an Apivar treatment.
Weeks of dull cloudy and cold weather has kept the bees confined to hive but a morning sunshine early in the month brought them out. It wasn't just cleansing flights either. The aroma of the winter honeysuckle was hanging like a cloud around the shrub and the girls were foraging madly. I have at long last succeeded in getting some winter aconite to grow in the damson copse and their gloriously yellow blooms were a real magnet. No aconite in the spinney yet which is a real disappointment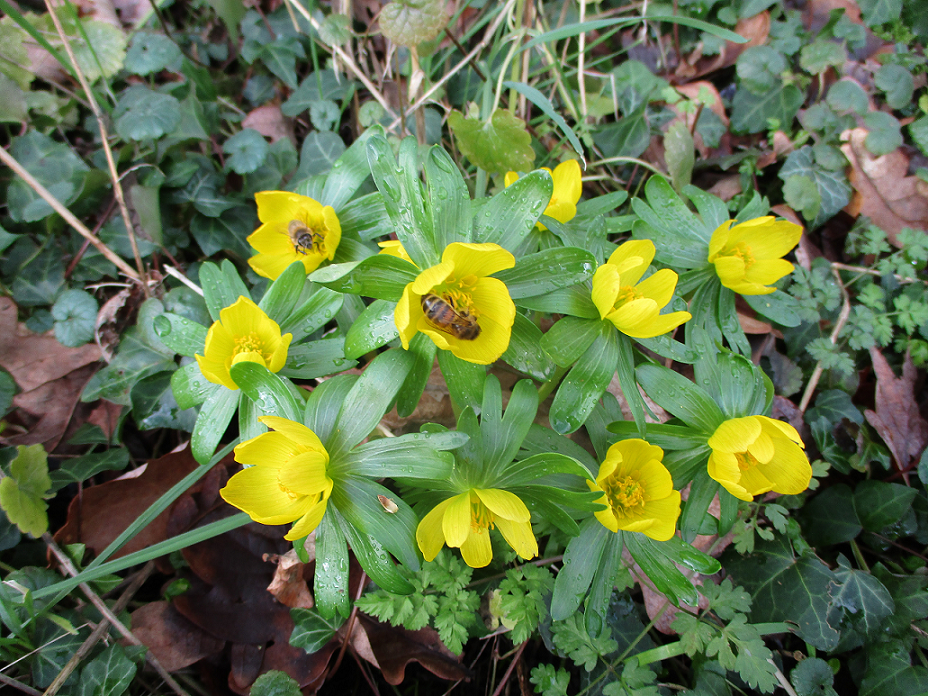 The Dartington Long-hive continues (unapace) to grow steadily. I have tried to do a little each day through the winter. The brood box is now finished, the roof is assembled and it is all ready for proofing. Honeyboxes and insulated dummy-boards can be gradually completed throughout the spring. The former are of course not vital as I can always use conventional supers if necessary.
The honey DNA testing results have come back from the CEH (Centre for Ecology and Hydrology). Some results were as expected but there were some surprises as well. The three varieties of open-pollenated rape were the main leaders in the spring and they showed up quite distinctly. The surprise was a noticeable content of sycamore. The spinney, which is only a third of an acre, consists of sycamore and elm 50:50 about twenty five years old but already yielding well. Unfortunately sycamore is an alien species and everyone I've consulted about the spinney's future has said "You can get those out!". We'll see.